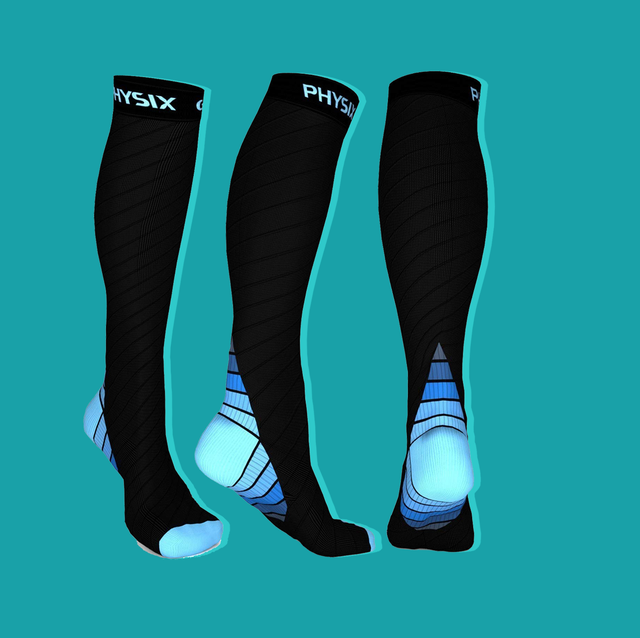 AMAZON
If tired muscles and swollen feet are cramping your style, compression socks work to reduce fluid build-up and fatigue in your legs by promoting better blood flow in the veins of the calves and feet. Athletes, pregnant women, and people who travel a lot can benefit from using compression socks because they help pump oxygen to damaged muscle tissues, helping them repair faster. But nurses, waiters, mail carriers, and other workers who stand for long shifts can develop pain in their calves and heels from being on their feet all day, so wearing compression socks can help with recovery.
How to shop for the best compression socks for nurses
In case you're not familiar with how compression socks are designed, the pressure in them is measured in millimeters of mercury (mmHg). Compression socks have a pressure rating of light, mild, and heavy. A light pressure rating is anything between 10 and 20 mmHg, while a mild pressure rating is 15 to 20 mmHg. On the other hand, a firm compression rating has a range of 20 to 30 mmHg. It's best to consult your doctor to figure out the best pressure rating for you, but generally, going lighter is the best way to start.
"I usually recommend a lighter compression, like 10 to 15 or 15 to 20, to begin with, and for more moderate to severe swelling, we start to go up in numbers, such as 20 to 30 or 30 to 40, which should be a custom fit and prescribed by a doctor," Priya Parthasarathy, D.P.M., a podiatrist based in Silver Spring, MD, and spokesperson for the American Podiatric Medical Association (APMA), said in a previous interview with Prevention.
Nurses need comfortable, slip-resistant pairs so you can move quickly and freely when there's a code blue. Stretchy, moisture-wicking fabrics like nylon and Spandex can also help keep your feet dry for hours. With so many compression socks out there, it's hard to choose the best pair for you, so we rounded up the best ones according to reviews from real nurses.1BEST OVERALLCompression SocksAMAZONPhysix Gear Sportamazon.com$16.12 SHOP NOW
Pressure rating: 20 to 30 mmHg
These socks deliver more oxygen-rich blood to your toes, heels, and calves to prevent swelling and tired muscles. Nurses will also appreciate that these socks have built-in ankle support and are made with moisture-wicking material so your feet stay dry and odor-free. An Amazon reviewer who is also a nurse wrote about how these socks are supportive and stayed in place: "At the end of each shift, I can honestly say I don't have the foot pain like before and I do have more energy. Highly recommend."2BEST VALUECompression Socks, 3-PackAMAZONL-Lweikamazon.com$39.90$12.98 (67% off) SHOP NOW
Pressure rating: 8 to 15 mmHg
These socks have the lowest pressure rating on this list, which makes them versatile enough for athletes, travelers, and pregnant women. Nurses who work long 12-hour shifts will love the cushioned heel, which gets the most pressure from standing, and the double-knit top that helps these socks stay secure around the calves. Designed with sweat-absorbing nylon and Spandex, these socks also give you freedom to move with extra stretch.  ADVERTISEMENT – CONTINUE READING BELOW
3BEST SOCKS WITH ODOR CONTROLCopper Compression Socks, 3-PackAMAZONFuelMeFootamazon.com$16.95SHOP NOW



Pressure rating: 15 to 20 mmHg
Made with mild pressure, these compression socks are made with nylon and infused with copper to ward off odor and provide comfort while improving circulation. "I spend 12+ hours on my feet going from patient to patient, so I was developing pain in my calves," says an Amazon reviewer. "These socks work to compress my calf area and take the pain away." The best part is that you can get three pairs for just $16,95, so you can wear a pair for work and another for working out before or after your shift. 
4Compression Socks, 3-PackAMAZONLevsoxamazon.com$27.99$16.99 (39% off) SHOP NOW
Pressure rating: 20 to 30 mmHg
Overnight shifts at the ER can take a toll on your arches, heels, and calves. But these medical-grade compression sockscan help ease the pain by providing 20 to 30 mmHg of pressure to these tension areas. These compression socks also feature a wide cuff to accommodate a variety of calf sizes, and have flat toe seams that won't irritate your feet as you're standing, walking, or running. Choose from 38 different fun designs and colors. 
"I am a nurse and I work 16-hour shifts. I am so glad I ordered these socks! There was such a huge difference when I wore these to work," says an Amazon reviewer. "My feet and legs did not ache and swell after working two doubles over the weekend. I did not feel nearly as tired in general either."